I had the privilege of broadcasting "Wake Up Memphis" live from CPAC in Dallas, Texas this morning. While most of the show focused on covering the top stories of the day, we also had a few special guests drop by.
It was great to have
Todd (Starnes)
tag team with me for a few segments. He weighed in on some of the big issues facing Conservatives (and the entire country for that matter).
The
Chairman of the American Conservative Union
Matt Schlapp stopped by in hour #3 today. Without Matt and wife Mercedes' hard work, CPAC wouldn't be the staple it is today. We talked about this event- including the upcoming speech by President Trump on Sunday- as well as CPAC is a place where those at the grassroots level of Conservatism not only have a voice, but are also celebrated.
Hard working guy. Nice too! I respect this great gathering place he has developed.
But wait, there was more! Congressman Mo Brooks stopped by for an impromptu interview. Currently, Congressman Brooks is serving the 5th District of Alabama, but he is ramping up an effort win a seat in the Senate in 2022. He stepped up to the booth with Dr. Pepper in hand, ready to roll. I knew from the moment we shook hands, this was going to be really good radio. We talked about the importance of CPAC, the challenges of running against an establishment opponent, and getting the endorsement of a certain popular President.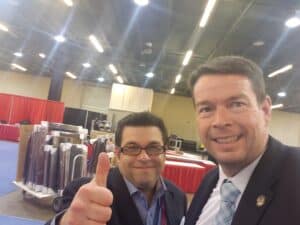 On a side note, I met a five and a half year friend today. At my previous radio hosting gig, Eben Brown was a frequent reporter for me. We talked science (especially space and weather) frequently as well as talking Dad stuff off air. Today, I finally met him in person. You ever get that feeling where you're smiling on the inside? Love this guy. Great news guy, even better person!
We are just getting started in Dallas. Plenty more to come!
Big thanks to Grace & Dylan back in Memphis for keeping us sounding great while on the road. I can't forget this questionable lot, either! Todd, Caleb Parke & Alan Pillow got us up and running without a hitch this morning.